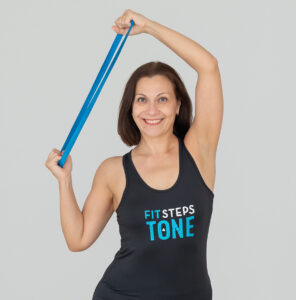 Improve posture, balance and tone our bodies
FitSteps Tone classes are effective for functional fitness as they help to improve posture, balance and tone our bodies!Working with the resistance band shapes the arms beautifully and you can immediately feel that you are doing an excellent workout!
Marina
Promotion video from creator of FitSteps Tone
What is FitSteps Tone
FitSteps TONE is a FitSteps class with a resistance band which provides an opportunity to add the focus on posture, lower body strengthening, and balance of the participants. They will become even better at FitSteps dances by slowing down the steps which will lead to a better experience for everyone.
All Fitness Levels
It is designed by Ian Waite and Natalie Lowe to give real, measurable fitness results. Mixing the beautiful Ballroom with the up-tempo Latin provides an all over body workout that is so much fun you don't feel like you are getting fit.