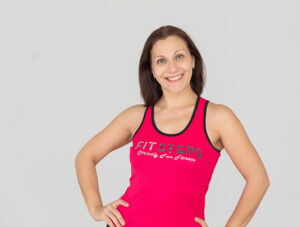 FitSteps FAB class for ALL
FitSteps Fab is a brilliant class with less complicated steps and lower intensity but full of fun and graceful dances!
Marina
Promotion video from creators of Fitsteps
FitSteps FAB
Fitsteps FAB® is the sequel to Fitsteps® another inspiring dance based fitness class designed by 'Strictly Come Dancing' stars Natalie Lowe & Ian Waite and Olympic swimmer Mark Foster.
Fitsteps FAB is 'for all bodies', for people who love to dance, want to keep fit, but for a variety of reasons, prefer a lighter intensity and lower impact.
This combination of graceful and up-tempo steps creates a class that is a great cardio workout, tones the body, and where real measurable fitness results can be achieved.
No partner needed
In Fitsteps FAB you will dance a further number of fabulous dance styles differing to the original Fitsteps class.
This class fuses dance styles with swing and sway roots; such as the Charleston, Foxtrot and Swing Jive.
And timeless dances such as Theatre Jazz and Disco, Flamenco to the dramatic Argentinian Tango.