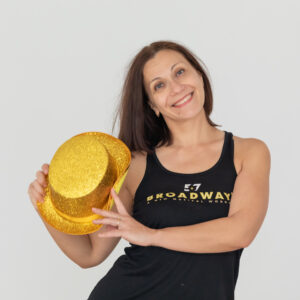 Why I LOVE 567 Broadway
I love teaching 567 Broadway because it brings us so much joy to feel like stars dancing on the Broadway show to famous hits from the musicals. The way my students express themselves during the dance and their happy faces are so precious
Marina
Created by Broadway dancer Joseph Corella
567BROADWAY! is the totally original fitness dance workout for all levels that inspires movement, health and happiness by harnessing the magic of musical theater song and dance. In this non-stop cardio dance workout you will follow along to the easy-to-learn dance fitness routines that will leave you shining bright like the Broadway STAR that you are!.
The first 30 minutes of class (Act 1)
dedicated to non-stop cardio dance and strength training, all set to your favorite Broadway hits like GREASE, HAMILTON, HAIRSPRAY & MUCH MORE! (Singing a-long is highly encouraged!)
The second part of class (Act 2)
dedicated to learning a fun dance combination to a song from a hit Broadway musical this involves learning a dance routine from a musical. Each part is broken down so that you can learn the full routine that is then performed as a whole at the end  ..
Camera, Video ACTION
When we perform the routine we will video and share onto our Facebook and blog pages. Its a great way for you to watch yourself with other zoom participants (cast) if you don't want to be on the video this is when you need to stop your camera within your zoom settings. You will still be able to hear and see others but your video will not show. Once finished and doing cool down the recording stops and hopefully those that turned cameras off will return.
Cool Down
Finish the class with a cool down to a wonderful broadway musical.